Writers of all experience and ability levels, welcome to the section of my website made just for you.  You may have come here because you are looking for specific feedback on a book or short story you are working on or maybe you just were hoping for some encouragement and advice about writing craft. I can help you with both.
First, to help you grow as  writers, I offer a manuscript critique service.
Second, I have articles and lists designed to encourage and educate writers at whatever stage they are on in their career.
Manuscript Critique Service for Fiction Writers
I would love to give you some feedback on your book in progress or maybe you have just completed a novel and want to polish it.
Here's how it works.
Step One: E-mail me at sharondunnbooks@gmail.com. Let me know what you are working on and what you hope to get out of the critique. We'll make arrangements for you to pay me via check or PayPal.
My Rates are as follows:
First 30 pages – $50.00
Each additional page – $2.00
No additional charge for e-mail exchange and phone calls.
Step Two: Once I have an understanding of what you are looking for in the way of feedback, you e-mail me the manuscript and I will get it back to you in a timely manner. My comments will be made via "Track Changes" so you won't have to pay any mailing fees or try to read my handwriting.
Step Three: The first 30 pages will give you an idea of my editing style without obligating you to pay for a whole manuscript. If you think we are a good fit, you can continue to feed me manuscript pages when you feel ready to share them.
A note about my critique style: While I think it is important to point out to writers what they are doing right in their manuscript, I also believe the only way we grow as writers is to hear truthful but tactful feedback. I won't mince words, I will let you know how to make your book even better and get it ready for publication.
Great Books for Writers
If You Want to Write: a book about art, independence and spirit
by Brenda Ueland  
A great writing book that you may not have heard of. Brenda Ueland's book has been reprinted over and over. If You Want to Write was one of the first writing books I read twenty some years ago when I decided to take myself seriously as a writer.  This is not a book that focuses on writing craft, rather it is a wonderful book for inspiration to get you beyond the hurdles that have kept you from pursuing your writing dreams. Brenda Ueland has this positive "can do" writing style that was just the "kick in the pants" I needed when I was starting out.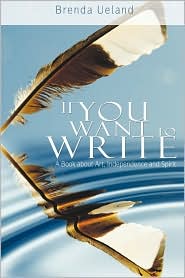 buy it at amazon  or barnesandnoble